Enjoy a world of vibrant joy with a rainbow play mat, a delightful addition to any child's playtime. These colorful mats not only capture the imagination but also offer a safe and comfortable space for little ones to explore and learn. Crafted from soft, child-friendly materials, rainbow play mats provide a supportive surface for crawling, playing, and bonding moments. 
Their lively hues stimulate visual development while encouraging creativity. Whether it's tummy time, playdates, or quiet reading, these mats are versatile companions. Easy to clean and maintain, they ensure both fun and convenience. Elevate playtime with a rainbow play mat, where imagination knows no bounds. In this article, we'll explain more detail about rainbow play mat.
Rainbow play mat: what is it?
A bright and engaging surface created specifically to improve kids' playtime is called a rainbow play mat. These mats are made of soft, long-lasting fabrics and frequently have a colorful rainbow pattern that grabs kids' attention and inspires creative play. For infants, toddlers, and older kids to partake in various activities, they offer a cozy and secure environment.
The many developmental phases, including tummy time, crawling, imaginative play, and learning, are catered to by rainbow play mats. Since these mats may be used both indoors and outside, they make functional additions to play areas, nurseries, and even picnics. They provide kids with a safe place to express their creativity, partake in sensory activities, or just unwind.
Why are rainbow play mats?  
Visual Stimulation: The vibrant and captivating rainbow colors of these play mats instantly attract children's attention, encouraging them to explore and engage in various activities.
Imaginative Play: The colorful design of the mat sparks imagination and creativity in kids, inspiring them to invent stories and games during playtime.
Sensory Development: The soft texture of the mat provides tactile stimulation, helping babies and toddlers develop their sense of touch and fine motor skills.
Cushioned Protection: Rainbow play mats offer a cushioned surface that safeguards children from bumps, tumbles, and hard floors, allowing them to play freely without the risk of injury.
Comfortable Space: With its padded construction, the mat offers a comfortable and cozy space for infants to practice tummy time, roll around, and eventually learn to crawl.
Versatility: Use these mats indoors and outdoors to create a play area that suits your space and needs with flexibility.
Easy Maintenance: Most rainbow play mats have a design that ensures easy cleaning. A quick wipe with a damp cloth is often all that's needed to keep it looking fresh and clean.
Non-Slip Feature: Many mats come with a non-slip bottom, ensuring stability and safety even on smooth surfaces, preventing accidental slips.
Educational Value: The rainbow design can help introduce young children to colors, aiding in color recognition and early learning.
Cozy Aesthetic: Apart from its functional benefits, a rainbow play mat adds a cheerful and inviting touch to any room, enhancing the overall aesthetic.
Social Interaction: Siblings and friends can gather around the mat for interactive play, fostering social skills and cooperation.
Rest and Relaxation: As kids grow, the mat offers a comfortable spot for reading, drawing, or quiet time, promoting relaxation.
Durable and Long-lasting: Rainbow play mats are often made from durable materials that can withstand active play and maintain their quality over time.
Portable Play: Many mats are lightweight and easy to roll up, allowing for convenient storage or transportation, whether for playdates or trips.
Gift-Worthy: A rainbow play mat makes for an excellent gift choice for baby showers, birthdays, or special occasions, delighting both kids and parents.
How to find the best deals on rainbow play mats?
If you're looking for the best deals on a rainbow play mat, TinyLandUS.com is a great place to start. Here's how to find the perfect deal:
Explore the Website: Visit TinyLandUS.com and navigate to the play mats section.
Search Filters: Use search filters to narrow down options by size, material, and price range.
Deal Section: Check the "Deals" or "Sale" section for discounted rainbow play mats.
Newsletter Sign-up: Subscribe to their newsletter for exclusive deals and updates.
Follow on Social Media: Connect on social media for flash sales and promotional offers.
Compare Prices: Compare prices of different rainbow play mats to ensure you're getting the best deal.
Bundle Offers: Look for bundle deals with other baby products for extra savings.
Clearance Items: Browse through clearance items for hidden gems at lower prices.
Seasonal Sales: Keep an eye out for seasonal sales and holiday promotions.
Reward Programs: Join any rewards or loyalty programs for future discounts.
Limited-Time Offers: Grab limited-time offers before they expire.
Read Reviews: Check product reviews to ensure quality before purchasing.
Flexible Payment Options: Look for flexible payment options like installment plans.
Price Drop Alerts: Enable price drop alerts if the website offers them.
Customer Service: Contact customer service for any ongoing or upcoming deals.
Bulk Purchase Discount: Inquire about bulk purchase discounts if you need multiple mats.
Referral Program: Refer friends to earn discounts on your purchase.
Holiday Discounts: Take advantage of holiday-specific discounts and promotions.
Educational Content: Read their blog for tips and tricks on getting the best deal.
Warranty and Return Policy: Understand the warranty and return policy for a hassle-free experience.
Size Guide: Use the size guide to ensure the mat fits your space perfectly.
Check Availability: Confirm if the desired rainbow play mat is in stock.
Early Bird Offers: Be on the lookout for early bird offers on new arrivals.
Student or Military Discounts: Check if there are any student or military discounts available.
Local Retailers: Explore if any local retailers have partnerships for better deals.
By following these steps and keeping an eye on TinyLandUS.com, you're sure to find the best deals on a vibrant rainbow play mat that will bring joy to your little one's playtime.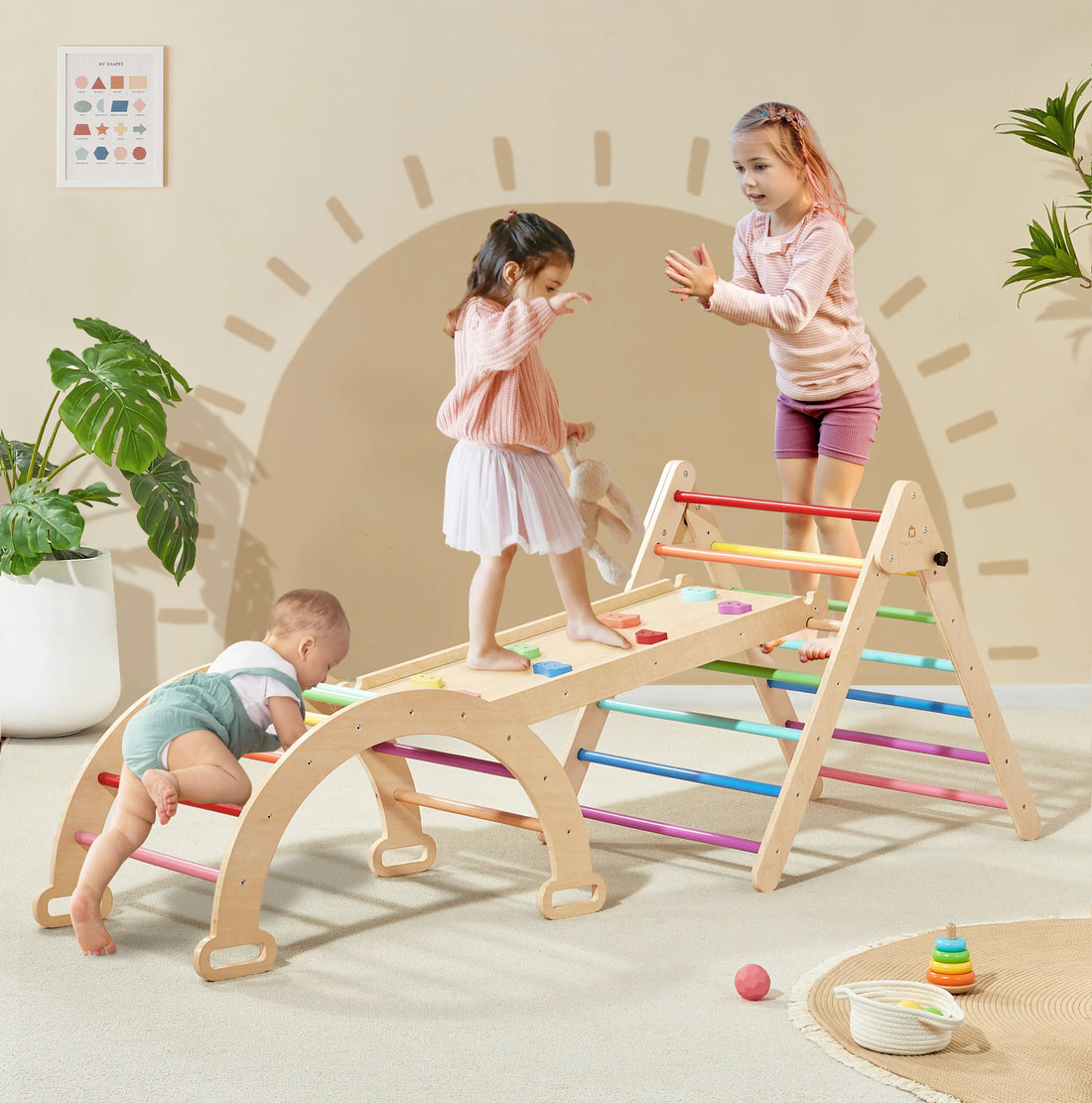 FAQs
What is a rainbow play mat made of?
Rainbow play mats are typically made of soft, non-toxic, and durable materials like foam or fabric.
How do I clean a rainbow play mat?
Gently wipe the surface with a damp cloth using mild soap; avoid excessive moisture.
Are rainbow play mats suitable for all ages?
Yes, designers create rainbow play mats for babies, toddlers, and even older children to engage in various activities.