Toys play a crucial role in a child's development, and the toy cooking stove is no exception. More than just a toy, it is a portal to a realm of imagination, learning, and enjoyment. Children engage in imaginative play that enhances their cognitive and motor skills by emulating adults in the kitchen and concocting imaginary dishes. These toy stoves introduce them to food, foundational cooking principles, and even impart a sense of responsibility. Thus, while it may appear entertaining, a toy cooking stove significantly fosters a child's multifaceted growth.
What is a toy cooking stove?
A toy cooking stove is a delightful play item for children. Though scaled down, it is designed to resemble an actual stove, which allows kids to immerse themselves in pretend culinary adventures. Some models even feature sound effects or lights, typically accompanied by toy pots, pans, and utensils. Constructed from child-safe materials like plastic or wood, these stoves stimulate children's imagination and acquaint them with cooking essentials. Equally beloved by both boys and girls, this toy provides a splendid avenue for role-playing and experiential learning.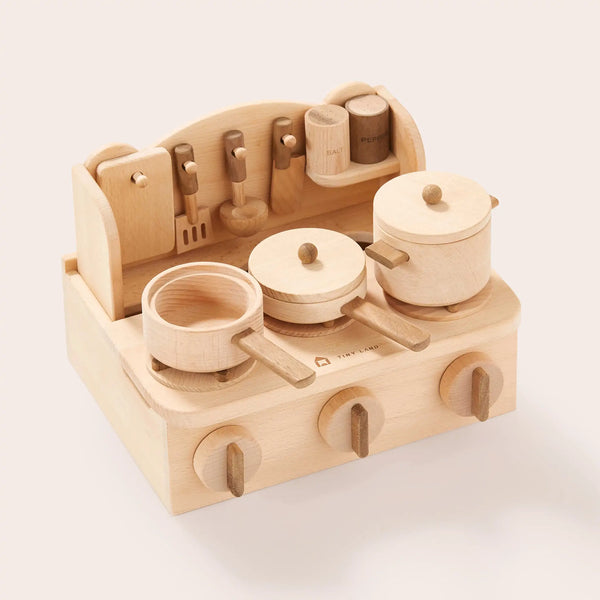 Why Toy Cooking Stoves Are a Hit
Mimics Real Life:

 Toy stoves let kids emulate adults in the kitchen, offering a delightful blend of observation and action.

Boosts Imagination:

 From chef to cafe owner, the world of culinary creativity awaits!

Safe Exploration:

 While real kitchens have risks, toy stoves ensure safety alongside fun.

Skill Development:

 Kids learn about foods, measurements, basic math, and hone their motor skills.

Inclusive & Interactive:

 Perfect for every child, with some stoves featuring engaging sound effects or lights.

Promotes Social Play:

 It's not just solo fun; friends, siblings, and parents can join in!

Durable & Affordable:

 Designed for durability, there are options to fit every budget.

Compact:

 Their space-savvy design ensures a fit in any play area.
Making the Most of a Toy Cooking Stove
Using a toy cooking stove is super easy and fun. Here's how kids can make the most of it:
Set Up Properly:Begin by placing the toy cooking stove on a flat surface and ample play space.

Organize & Plan:

 Arrange accessories and decide on a pretend dish.

Interactive Cooking:

 Use the stove's features for a simulated culinary experience.

Serve & Clean:

 From pretend-serving to tidying up, make every step fun.

Safety First:

 It's for pretend play; no real cooking is allowed!

Play Together:

 The joy multiplies when shared with others.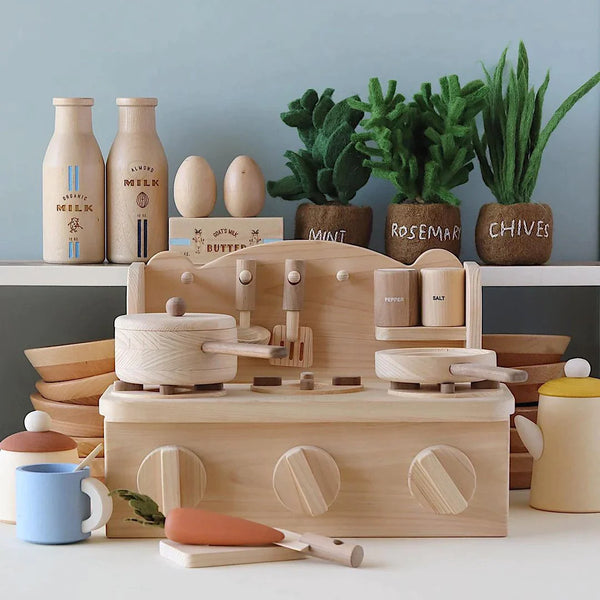 Considering a Toy Cooking Stove? Keep These in Mind:
Safety First:

 No sharp edges, non-toxic materials, and ensure a sturdy design.

Age-Appropriate:

 Ensure the stove matches your child's developmental stage.

Interactive Features:

 Lights, sounds, or motion can make playtime more lively.

Included Accessories:

 More accessories often mean more fun.

Educational Value:

 Beyond fun, a good stove offers valuable learning experiences.
Finally, a toy cooking stove can be valuable to any child's play repertoire. Ensure your selection is entertaining, safe, and educational. Happy pretend-cooking!