Wooden train sets have been a beloved classic toy for generations, allowing children to enhance their fine motor skills, spatial reasoning, and creativity. However, with a wide variety of available options, choosing the right wooden train set for your child can be challenging. This comprehensive guide will explore the factors to consider when selecting a wooden train set and highlight some of the best options available, including popular sets from Thomas & Friends, Brio, LGB, and Tiny Land®.
## Factors to Consider When Choosing a Wooden Train Set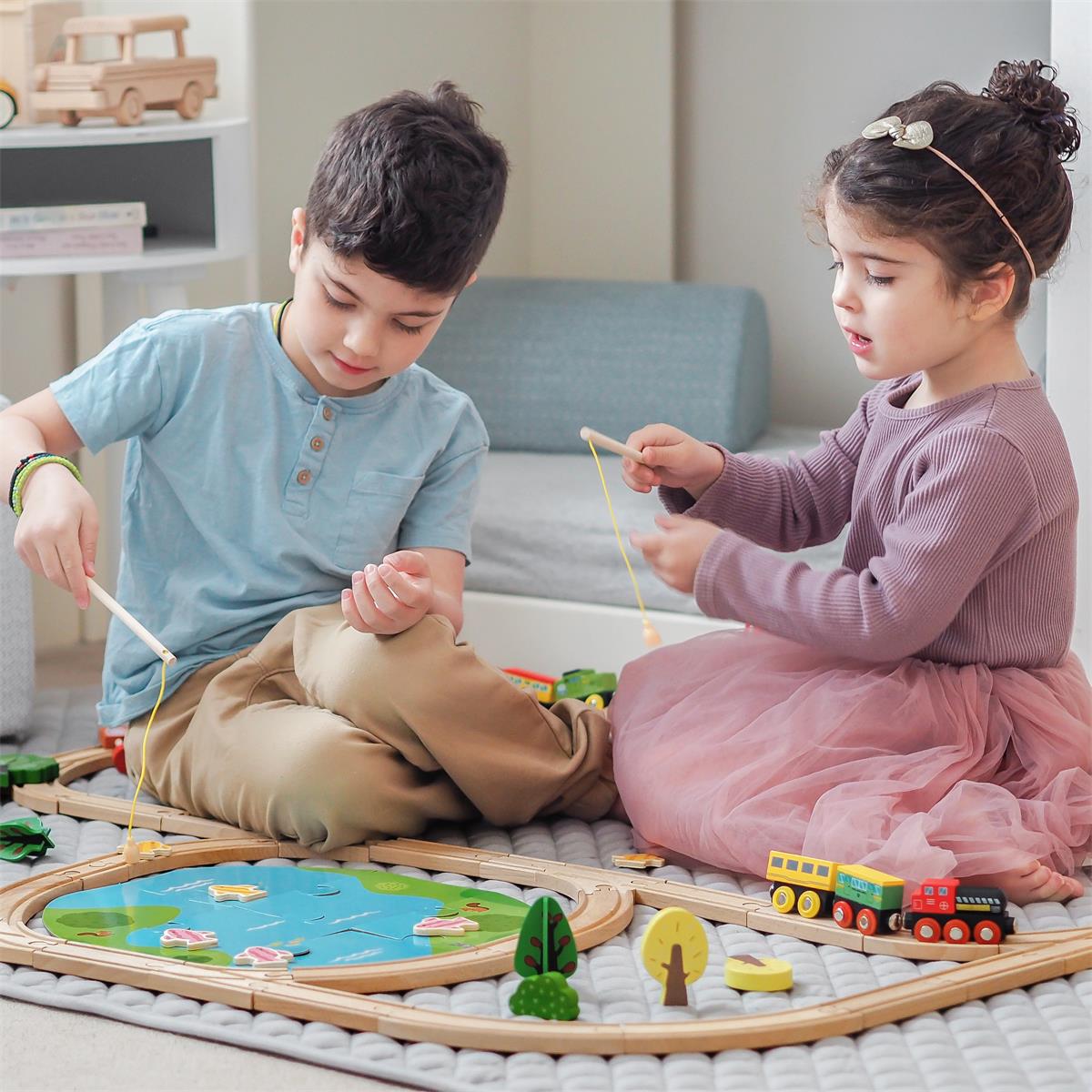 Age Appropriateness

:
  Early Development Sets for Younger Children

  Advanced Sets for Older Children
   Wooden train sets are designed for children of all ages, but some locations are better suited for specific age groups. Consider sets with larger pieces and more straightforward track layouts for younger children. Compared, older children may enjoy scenes with more intricate designs and additional features.
Price Range:
   Affordable Options for Budget-conscious Parents

   High-end Sets for Enhanced Play Experience
   Wooden train sets can vary significantly in price, from affordable options to high-end sets. Determining your budget before starting your search is essential, as this will help narrow down the available choices.
Features:
   Basic Sets for Simplicity and Open-ended Play

   Advanced Sets with Motorized Trains and Sound Effects
   Consider the features you want in a train set. Some sets come with motorized trains, sound effects, and working bridges, while others offer simpler designs with basic pieces. Decide which features are essential for your child's play experience.
Brand Reputation:
 Thomas & Friends Wooden Train Sets

 Brio Wooden Train Sets

 LGB Wooden Train Sets

 Tiny Land® Wooden Train Sets
   Numerous brands manufacture wooden train sets, such as Thomas & Friends, Brio, LGB, and Tiny Land®. Research the reputation and quality of different brands to ensure you select a location that meets your expectations.
## Top Wooden Train Sets on the Market
**Thomas & Friends Wooden Railway Starter Set:**
Perfect for Young Train Enthusiasts
   This set is ideal for young children just beginning their wooden train journey. It includes a Thomas engine, a few cars, and an easy-to-set-up track. The Thomas & Friends brand is known for its durability and compatibility with other wooden train sets.
**Brio Wooden Railway Ultimate Starter Set:**
   Unleash Your Child's Creativity
   The Brio Ultimate Starter Set is an excellent choice for older children seeking a more challenging train set. It offers a wide variety of trains, cars, and track pieces, allowing for the creation of elaborate layouts and imaginative play scenarios.
**LGB G-Scale Starter Set:**
 Realistic Experience for Train Enthusiasts
   This set is designed for severe train enthusiasts and features high-quality locomotives, cars, and track pieces. With a focus on realism, LGB provides an immersive experience for children passionate about trains who enjoy creating lifelike layouts.
**Tiny Land® Wooden Train Set 110 Pcs:**
Perfect for Family & Party Time!
   This comprehensive set from Tiny Land® is a delightful treasure trove of excitement. It includes tracks, building blocks, and puzzles, perfect for playtime and educational moments. Ideal for kids aged 2 to 8, it promotes teamwork, creativity, and developmental skills. The new addition of puzzles and a fishing pond with rods and magnetic fish toys adds an extra layer of fun. Watch your child create their own vibrant town with a hospital, fire station, police station, school, and heliport. The compatibility with other major train brands ensures you can expand your collection while enjoying savings. Safety is a top priority, and this set is certified, free from molded wood and toxic paint. It has undergone rigorous testing in a strict laboratory, surpassing safety requirements in the USA. Rest assured, it is non-toxic, BPA-safe, lead-safe, and phthalates-safe. With Tiny Land®, you can enjoy quality time and witness your child's developmental growth unfold.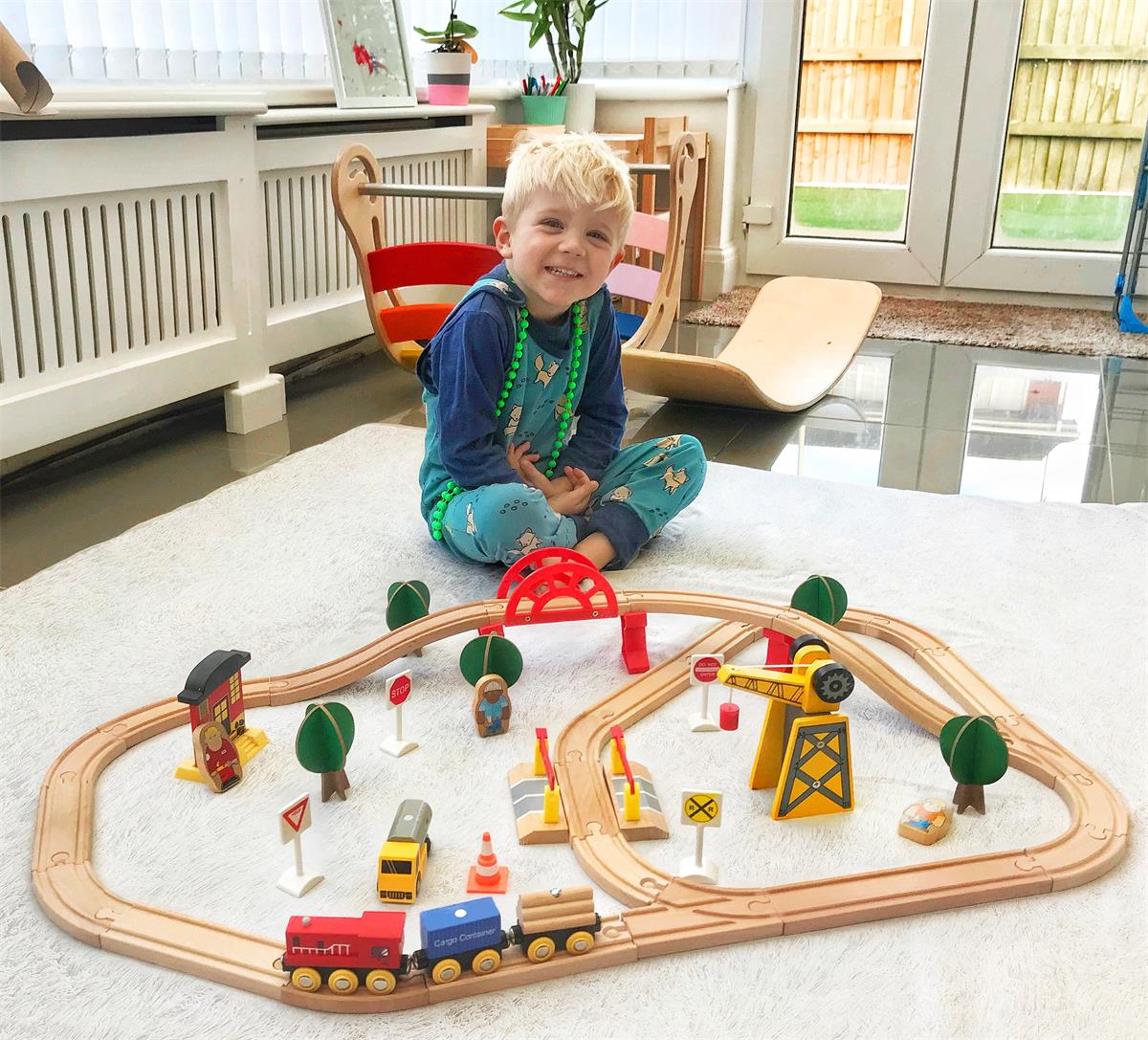 **Tiny Land® Zoo Journey Wooden Train Set:**
 Explore Shapes and Animals at the Zoo!
   Ignite your toddler's imagination with the Zoo Journey Wooden Train Set from Tiny Land®. The click-clack sound of the train on the tracks will spark their curiosity and set their imagination ablaze. This set is designed for toddlers, encouraging storytelling, creativity, and hands-on learning. The animal-shaped pieces add a whimsical touch, while the double-sided design of the tracks enhances their tactile skills and creativity. Crafted with premium beech wood, its hand-sanded edges ensure sturdiness and safety. There are no choking hazards, making it ideal for little hands. This set meets international safety standards so that you can have peace of mind. At the same time, your child explores the world of animals on their imaginative journey. Compatible with other major train brands, the Zoo Journey Wooden Train Set allows for seamless integration and expansion of their railway world. This incredible set is perfect for birthdays and holidays and gives the gift of imagination and fine motor skills.
**Tiny Land® Exciting Crane Train Set:**
 Experience Unique Play with our 60-Piece set!
   Get ready for a unique play experience with the Exciting Crane Train Set from Tiny Land®. This 60-piece Set is exciting, featuring a working crane, cargo, tracks, a train, and various accessories. Suitable for ages 3 and up, it fosters imagination and cognitive development. The premium wooden construction guarantees durability and safety, as it is made from eco-friendly wood with smooth surfaces and edges to minimize the risk of splinters or injury. The interactive crane steals the show with its fully functional rotating base and extendable arm. Engaging children in hands-on play enhances their fine motor skills and understanding of cause and effect. The versatility of the track layouts allows for easy assembly and disassembly, promoting problem-solving, spatial awareness, and creative thinking. Designed to be compatible with most train sets from major wooden train brands, the possibilities for expansion and integration are limitless. Give the perfect gift for kids, one that promotes educational play and creates memorable moments.
**Tiny Land® Wooden Train Tracks Set (52 pcs):**
   Endless Possibilities for Imaginative Play!
   The Tiny Land® Wooden Train Tracks Set is a must-have addition to any wooden train collection. With compatibility with famous brands, this set seamlessly integrates with existing groups, opening up endless possibilities for imaginative play. The set features varied track pieces and even includes a convenient storage bag, allowing kids to create unique designs and easily transport the location for playdates or trips. Crafted with durable and non-toxic materials, it guarantees safety and enjoyment for your child. The Tiny Land® Wooden Train Tracks Set inspires creativity by providing numerous pieces and the compatibility to explore their imagination. Promoting imaginative play and problem-solving skills, this set will watch their creativity soar. Order this child-safe train track set today, and let the adventures begin!
**Tiny Land® Wooden Train Set for Children 39 Pcs:**
 Stimulating Imagination and Cognitive Skills!
   The Tiny Land® Wooden Train Set for Children is an ideal early learning toy for children aged 3 and up. With 39 pieces, it stimulates their imagination and cognitive skills. Crafted from eco-friendly wood, it ensures safety and environmental friendliness. The creative assembly design allows for versatile track layouts, fostering problem-solving and creative thinking. Compatible with most major wooden train sets, it offers the opportunity for expansion and integration, providing endless possibilities for play. Give the gift of educational freedom and create lasting memories with this beautiful wooden train track set. Perfect for birthdays, holidays, and special occasions.
In conclusion, consider age-appropriateness, price range, features, and brand reputation when choosing a wooden train set for your child. The Tiny Land® Wooden Train Sets offer a range of options that cater to different age groups and promote educational play and creativity. Whether it's the comprehensive 110-piece set, the zoo-themed set, the exciting crane set, the versatile track set, or the early learning set, Tiny Land® provides high-quality wooden train sets that will delight your child and inspire their imagination. Select the collection that best suits your child's interests and watch as they embark on countless adventures in their wooden railway world.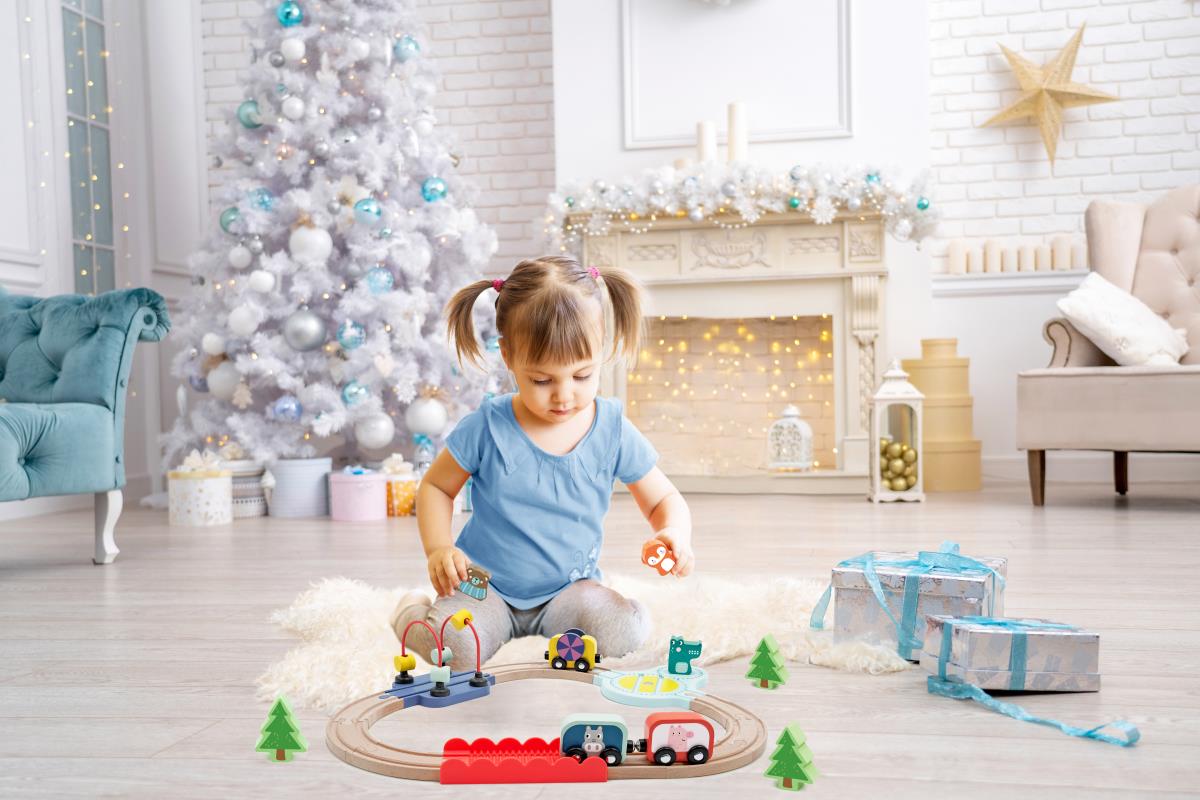 ### FAQs (Frequently Asked Questions)
**
FAQ 1: Are wooden train sets safe for young children?
**
Yes, wooden train sets are generally safe for young children. However, choosing groups that meet safety standards and do not contain small parts that could pose a choking hazard is essential. Always supervise playtime and ensure the child is within the recommended age range for the specific set.
**FAQ 2: Can wooden train sets be used with other popular brands?**
Many wooden train sets are designed to be compatible with other popular brands, allowing for expanded play possibilities. However, checking the product descriptions or contacting the manufacturer to ensure compatibility before purchasing is advisable.
**FAQ 3: What is the recommended age range for wooden train sets?**
The recommended age range for wooden train sets can vary depending on the complexity of the location and the manufacturer's guidelines. Typically, groups are designed for children aged 3 and above. Still, options are also available for younger children with simpler designs and larger pieces.
**FAQ 4: How can I clean and maintain a wooden train set?**
Use a soft cloth or sponge with mild soap and water to clean a wooden train set. Avoid soaking the wood or using abrasive cleaners, as they may damage the finish. Regularly inspect the scene for loose or damaged parts and tighten or replace them.
**FAQ 5: Do wooden train sets promote imaginative play?**
Yes, wooden train sets are renowned for their ability to foster imaginative play. Children engage in open-ended play that stimulates their creativity and storytelling abilities by constructing tracks, creating scenarios, and maneuvering the trains.
**FAQ 6: Can wooden train sets be passed down through generations?**
Absolutely! Wooden train sets are known for their durability and longevity. When well-maintained, they can be cherished and enjoyed by multiple generations of children in a family. These sets often hold sentimental value and can become cherished family heirlooms.
**FAQ 7: How can a wooden train set benefit my child's development?**
Wooden train sets offer numerous developmental benefits. They promote fine motor skills, hand-eye coordination, problem-solving abilities, spatial awareness, and creativity. Playing with these sets encourages social interaction, cooperation, and communication skills as children engage in collaborative play scenarios.
**FAQ 8: Are wooden train sets environmentally friendly?**
Yes, wooden train sets are considered environmentally friendly toys. They are typically made from sustainably sourced wood and do not contain harmful chemicals. Choosing wooden toys over plastic alternatives contributes to a more eco-friendly and sustainable play environment for children.
**FAQ 9: Can wooden train sets be used in educational settings?**
Absolutely! Many educational institutions, such as preschools and daycare centers, incorporate wooden train sets into their curriculum. These sets provide hands-on learning opportunities that support various aspects of early childhood development, including cognitive, social, and emotional skills.
**FAQ 10: Can wooden train sets be customized or expanded?**
Yes, wooden train sets offer excellent customization and expansion options. You can add additional track pieces, train cars, and accessories to create more extensive and intricate layouts. Some locations even allow for building bridges, tunnels, and other creative structures, offering endless possibilities for customization and imaginative play.