Introduction
Looking for the greatest teepee tent for your children? Look nowhere else! The top ten kid-friendly teepee tents for 2023 are listed below. These adorable play tents are ideal for igniting your kids' imaginations and producing priceless playing moments. Our professional suggestions will assist you in making an informed choice, whether it's for indoor entertainment or outdoor experiences.
The 10 Best Teepee Tents for Kids (2023 Buying Guide)
Here are the top 10 teepee tents that guarantee endless hours of fun and entertainment for your little ones:
Whimsical Wonderland Teepee
Children can find a lovely haven in the Whimsical Wonderland Teepee. This teepee is made of high-quality cotton canvas and has charming patterns that appeal to young minds. The stable hardwood poles assure stability, and parents will find it simple to put together thanks to the straightforward design. With this imaginative teepee tent, you can let your child's imagination soar.
Adventure Seeker Teepee
The Adventure Seeker Teepee is a must-have if your kids enjoy going on outdoor activities. It's ideal for outdoor play in the backyard or on camping vacations because to its weather-resistant fabric and sturdy construction. The earthy hues and tribal designs of the teepee give your child's playtime a hint of the woods.
Dreamy Starlight Teepee
With the Dreamy Starlight Teepee, you can turn your child's room into a fantastic setting. Built-in LED lights in this teepee create a starry atmosphere for bedtime stories and imaginative play. The wonderful Starlight Teepee was made with soft and secure materials to give your children a pleasant and wonderful experience.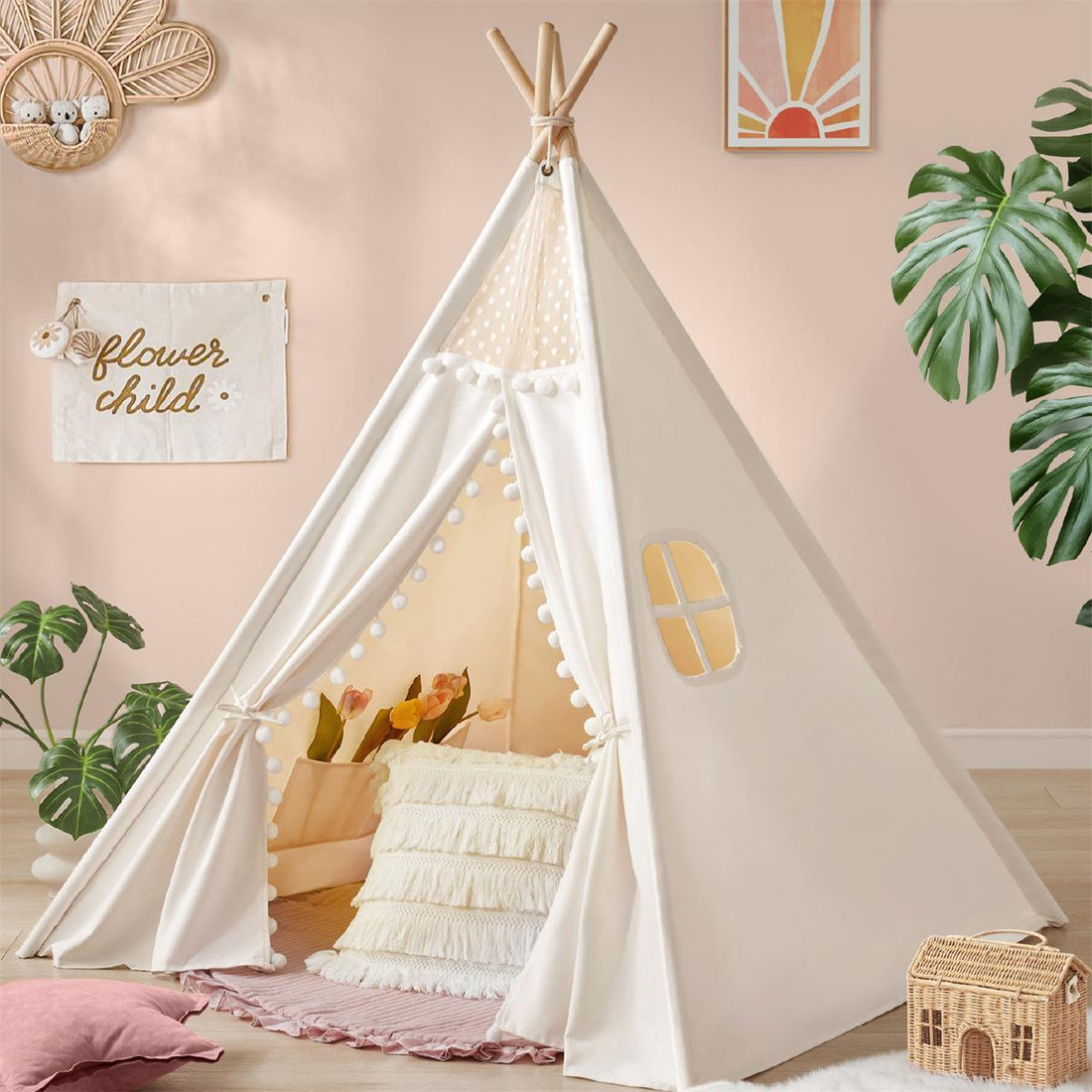 Safari Explorers Teepee
Encourage your children to use the Safari Explorers Teepee to go on an adventurous safari. The animal-themed designs on this tent pique their interest in animals. It's perfect for playdates and time spent with friends thanks to its roomy interior and ventilation window.
Undersea Adventure Teepee
With the Undersea Adventure Teepee, plunge into a fun-filled underwater world. Your child's interest in marine life will be sparked by the bright sea animals and marine prints on this ocean-themed teepee. Because of its lightweight construction, the teepee is appropriate for both inside and outdoor play.
Fairy Tale Castle Teepee
With the Fairy Tale Castle Teepee, you may fulfill all of your child's fairy tale wishes. This teepee, which is modeled after a gorgeous castle, encourages imagination and storytelling. Your young prince or princess will have an enchanted play area thanks to the elaborate features and delicate hues.
Space Odyssey Teepee
Launch yourself into an interstellar journey using the Space Odyssey Teepee. Young astronauts are inspired to explore the world by this teepee with a cosmic motif. The teepee's roomy interior offers plenty of space for toys and games, guaranteeing hours of space-themed play.
Dinosaur Expedition Teepee
All dinosaur fans are invited! For young paleontologists, the Dinosaur Expedition Teepee is a prehistoric wonderland. This teepee inspires an adventurous spirit and promotes learning through play thanks to its realistic dinosaur prints and patterns.
Creative Artist Teepee
With the Creative Artist Teepee, you can encourage your child's artistic abilities. A blackboard panel is included with this teepee, allowing your child to express their creativity. This teepee encourages creative expression and imaginative play, whether it be through sketching, writing, or storytelling.
Cosmic Carnival Teepee
Come on in and join the fun at the Cosmic Carnival Teepee. This colorful and energetic teepee with a carnival motif is ideal for holding playtime gatherings and promoting social interaction. As your children discover the thrill of the Cosmic Carnival, watch their faces light up with delight.
Frequently Asked Questions (FAQs)
Are teepee tents safe for kids?
Yes, kid-friendly teepee tents are secure as long as they adhere to safety regulations. When playing, always use teepees made of non-toxic materials and make sure there is enough ventilation.
Can teepee tents be used outdoors?
Many teepee tents can be used outside. To make sure they sustain outside circumstances, look for durable designs and fabrics that are resistant to weather.
What age range are teepee tents suitable for?
Children 3 and older should be allowed to use teepee tents. Some versions, however, are designed with the proper safety measures for younger toddlers.
How do I clean a teepee tent?
Cleaning is simple because most teepee tents feature detachable fabric. Before reassembling, hand wash the cloth with a mild detergent and allow it to air dry.
Can teepee tents improve a child's creativity?
Absolutely! Children can explore their creativity via play, storytelling, and role-playing in teepee tents because they offer a quiet and imaginative setting.
Are teepee tents easy to set up?
Yes, teepee tents are made to assemble quickly. For a simple setup, look for models with clear instructions and solid poles.
Conclusion
Selecting the ideal teepee tent for your children is a fun adventure that opens up a world of creative play. You can make an informed choice and provide your kids a spectacular playing experience by using our purchase advice and professional recommendations.
Keep in mind to take into account their preferences, safety, and the teepee tent's adaptability. These teepee tents guarantee infinite entertainment and priceless childhood memories, whether you decide to go on a safari, explore the universe, or plunge into an underwater adventure.
Don't wait any longer, then! Get one of the best 10 kid-friendly teepee tents in 2023, then start the journey!