Introduction
Children of many generations have always found joy and amazement in playhouses. Children can play pretend, exercise their imaginations, and build cherished memories with friends and family in the world that these amazing structures create. Tinylandus.com is one company that stands out for providing playhouses of the highest caliber.
White tent playhouses of excellent quality are available in a lovely selection on Tinylandus.com, making them ideal for both indoor and outdoor play. These playhouses are intended to foster creativity, improve social skills, and give your children a fun and safe place to play.
With an emphasis on the excellent selection provided by Tinylandus.com, we delve into the enchanted realm of playhouses in this article. We'll assist you in making an informed choice to create amazing moments for your children, from comprehending the advantages of playhouses to investigating the qualities of these tents.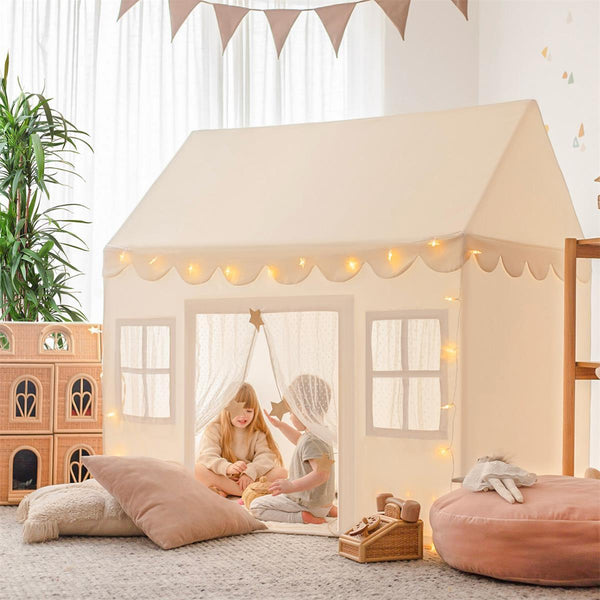 What Makes Playhouses Special?
Playhouses are more than just structures; they are portals to a world of imagination and learning. Here are some key reasons why playhouses hold a special place in a child's heart:
Playhouses foster imaginative play by giving kids the freedom to come up with their own tales and situations. The options are endless, whether it's a castle, spaceship, or jungle retreat.
Social Development: Playhouses provide a common area where children can engage in conversation, compromise, and teamwork with their peers. From an early age, these encounters help children develop critical social skills.
Safe Exploration: Children can explore and experiment in a playhouse under controlled conditions without the risks of outdoor play.
Buy Good Quality Tent White Playhouse from Tinylandus.com
The two most important factors to consider when purchasing a playhouse are quality and design. A beautiful selection of high-quality tent white playhouses are available on Tinylandus.com to suit a variety of tastes and hobbies.
Their playhouses are built to last and are safe because they are made of sturdy materials. Any indoor or outdoor situation is enhanced by the elegance and simplicity of the white tent design. Let's look at some common choices:
Magical Castle Dreams
The castle-inspired style of this charming white playhouse captures the imagination of aspiring princes and princesses. It's ideal for both indoor and outdoor outings because to its durable build and simple setup.
Adventure in the Wild
With this playhouse with a safari theme, you may embark on fascinating jungle adventures. This safari-themed tent turns your child's playing into a thrilling adventure, complete with animal designs and a hat.
Underwater Wonderland
With this playhouse with an undersea theme, explore the depths of creativity. It's a perfect place for young marine explorers because it is decorated with vibrant sea creatures.
Unleashing Creativity with Tinylandus.com Playhouses
Tinylandus.com playhouses are designed to spark creativity and inspire imaginative play. Here are some fantastic features that set them apart:
Easy Assembly
All playhouses come with simple assembly instructions, which makes setup for parents a joy. Spend more time with your kids experiencing amazing moments and less time putting things together.
Durable Materials
Quality and safety are top priorities at Tinylandus.com. The playhouses are made of durable materials so they can withstand many hours of play and exploration.
Ventilated Design
Safety comes first, especially when playing outside. The playhouses have ventilation windows that guarantee a steady stream of fresh air for a relaxing pastime.
Compact Storage
Do you need to make room again after playtime? Not to worry! These playhouses are made to be quickly disassembled and folded up for storage.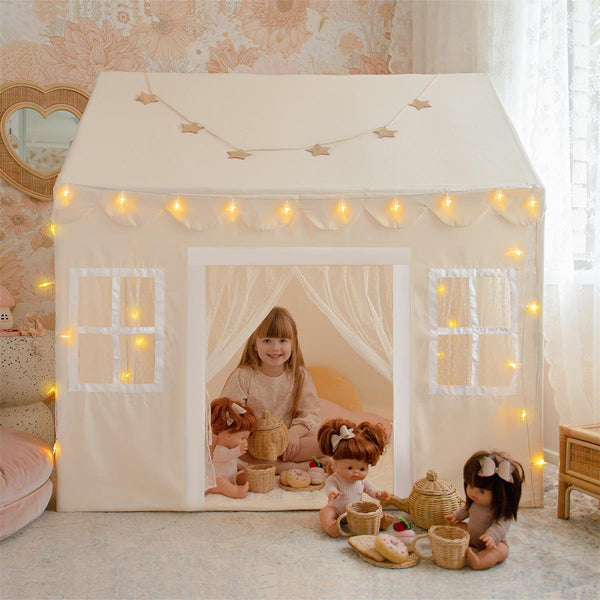 FAQs
Q: Are Tinylandus.com playhouses suitable for both indoor and outdoor use?
Absolutely, yes! The playhouses from Tinylandus.com are adaptable and may be used both indoors and outdoors, letting your kids have their enchanted adventures wherever they like.
Q: What age group is best suited for these playhouses?
youngsters of all ages can have fun in the playhouses offered by Tinylandus.com, which are intended for youngsters between the ages of 2 and 10.
Q: How do I clean the playhouse?
Cleaning is simple. To get rid of any dirt or stains, just wipe the playhouse off with a moist cloth and mild soap.
Q: Can I personalize the playhouse?
Even though Tinylandus.com has a great selection of styles, you can still give your home a unique touch by adding extras like pillows or fairy lights.
Q: Are the playhouses safe for children?
Absolutely! Tinylandus.com places a high focus on security. The playhouses' designs ensure that there are no sharp edges or other possible risks and they are built of child-safe materials.
Q: Do the playhouses come with a warranty?
Yes, Tinylandus.com offers a warranty on every playhouse they sell to ensure your total pleasure.
Conclusion
A high-quality tent white playhouse from Tinylandus.com is more than just a play structure for your kids; it's also a doorway to a world of creativity and imagination. These magical playhouses offer countless hours of amusement, education, and companionship.
Why then wait? With playhouses from Tinylandus.com, you can bring the magic of play indoors and watch as your kids' fantasies come true. Be a part of their incredible travels and make unforgettable memories!