New year, new reasons to celebrate! Forgot to send a holiday gift? Have some exciting new goals on the horizon? Want to start the year on a positive note? There are so many good reasons to send gifts in January! And this gift guide breaks down all the best ways to send New Year cheer to everyone on your list.
New Year Gift #1: Play Kitchen with 18 Pcs Toy Food & Cookware Accessories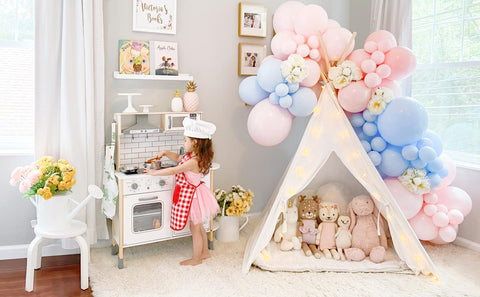 Gift:
Play Kitchen
What goes better with New Year's than play Kitchen?  Let's prepare a delicious New Year's dinner at the kitchen with kids
Click here to send this gorgeous gift!
New Year Gift #2:Tiny Land Teepee for Kids with Mat!
Gift: white teepee
Excellent New Year's gift, children can spend a fantastic night in the tent, parents can be with their children, there is no more warm New Year than this
Click here to send this delightful gift!
New Year Gift #3: Tiny Land Easel for Kids
Gift: Tiny Land Easel
You can record every moment of the New Year's scenery and share this happiness with your parents and friends. It's the perfect way to celebrate the start of a new year with a friend who always brings FUN to every situation.
Click here to send this all-fun-all-the-time gift.
New Year Gift #4: 60 Pcs Wooden Track Trains
Gift: Wooden Track Trains
These mini-figures, trains, trees can really inspire kids' imagination and creation. Ideal gift for New Year. Send this gift to someone who deserves a big celebration and a lot of love.
Click here to send this fabulously festive gift!
Need more inspiration? Head on over to www.tinylandus.com to browse our complete collection.