9 Reasons To Have a Teepee Tent
Once your kids finished their toddler years, they've gained great cognitive, emotional, and social development, and step into a new age. They can play with the water or talk to a doll for the whole afternoon. They will play with just about anything, for they're creative and imaginative in these years. And they can always have fun with their toys.
But as parents, you want your kids to engage in toys that will encourage them to use their imagination. There is nothing more challenging than choosing the right toy from a kingdom of toys, especially if you're looking for toys that keep them physically active and imaginative at the same time. One of the best toys that combine both is a kid's teepee tent. And here are the reasons your kid should have a teepee tent:
Kids' need for privacy grows as a function of their growing appreciation of themselves as social objects, one among many individual people. We all have the need to keep things secret from other people, let alone your kids. A kids teepee is the perfect place for your child to engage in imaginative play. It also can be a special place for your kids to have their own space to organize, whisper, or share secrets with their friends.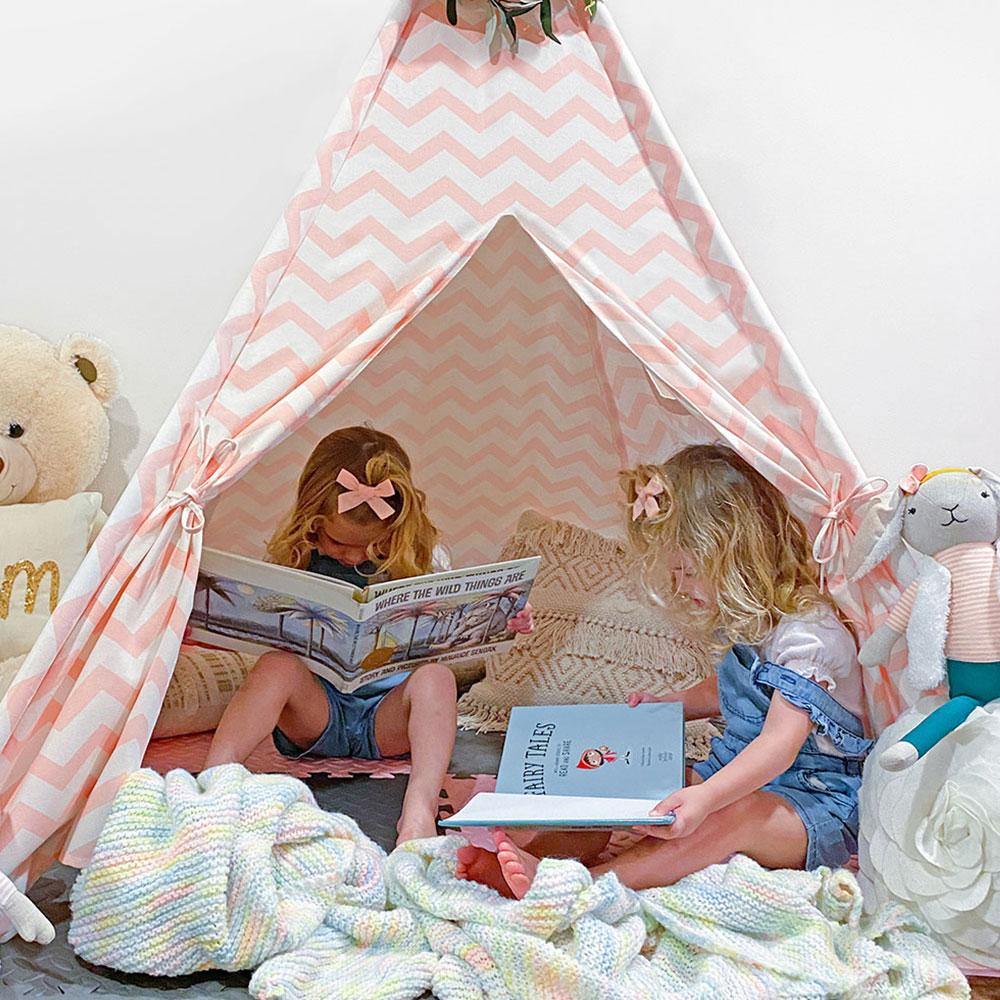 Kids spend much of their playtime in imagination activity, which tends to be more cooperative than play that's focused on toys or games. As you've probably already seen, they enjoy assigning different roles in an elaborate game of make-believe using imaginary or household objects. This type of play helps develop essential social skills, such as taking turns, paying attention, communicating (through actions and expressions as well as words), and responding to one another's actions. It also promotes problem-solving skills.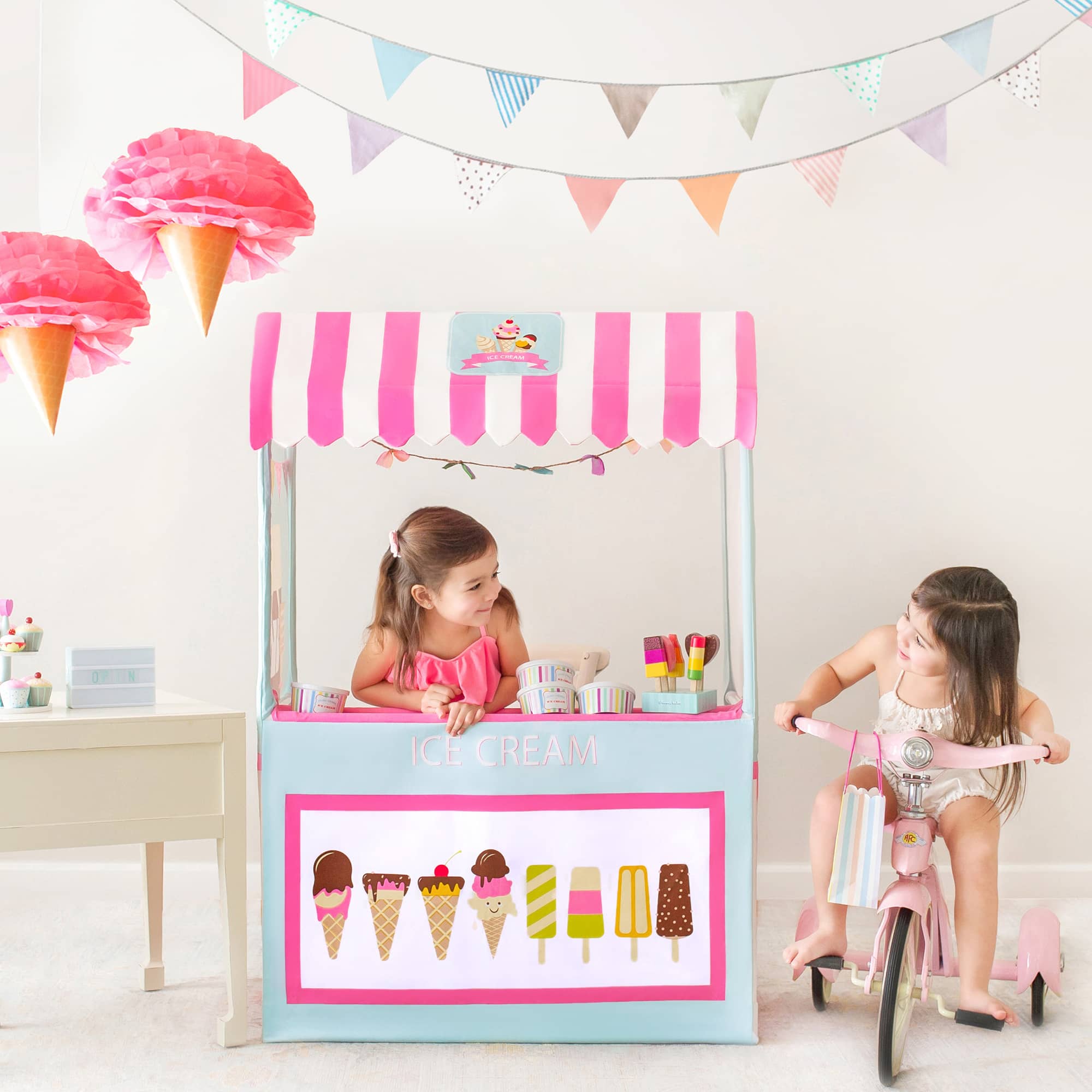 Now more than ever, reading can be a great way for children to relax and escape to another world. When books are part of the family routine, kids' language skills grow. It also helps parents teach important values and understand difficult events in real life. It would be a great idea for your child to have a teepee set up in her bedroom for a spot and enjoy quiet time in her teepee snuggled up with a book and a stuffed animal or two. They can read alone, or you can make it a family affair.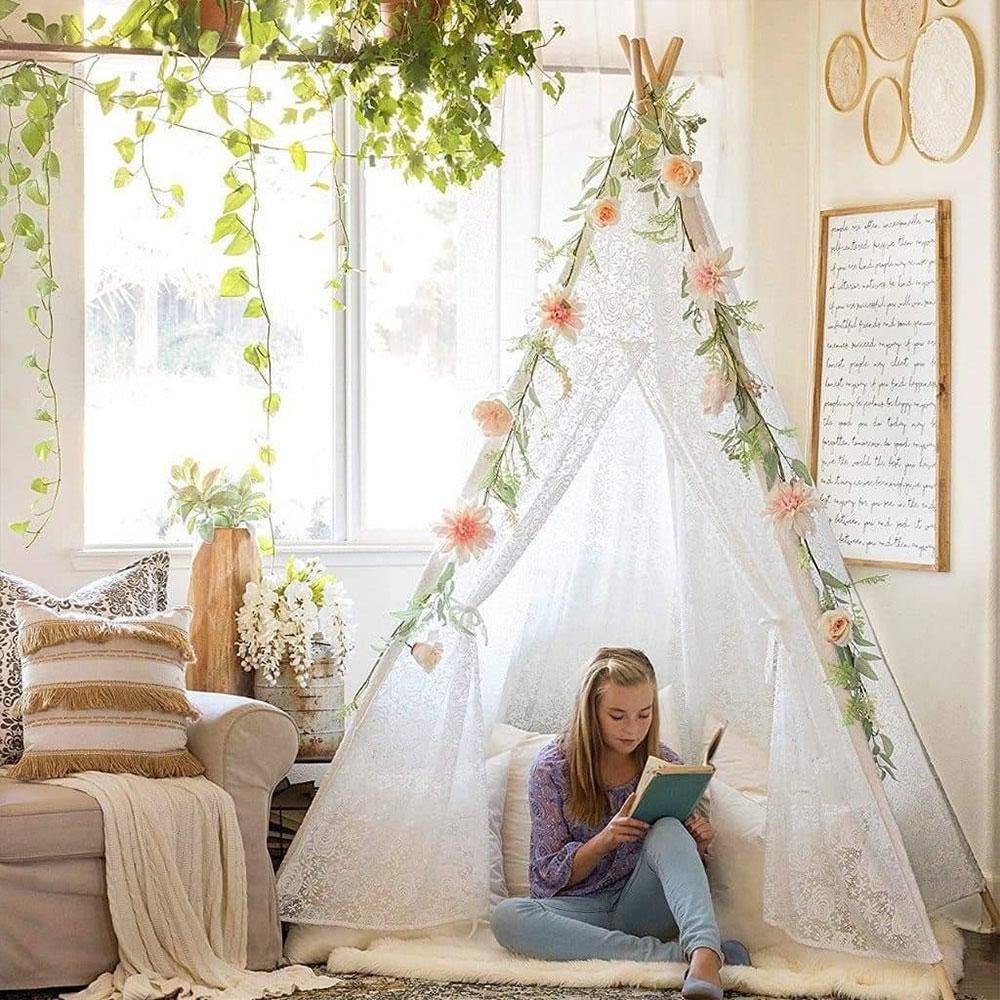 Every child loves to do fun activities, and so do parents. But sometimes we run out of ideas and rack our brains for nothing. You don't always have to go to Disneyland, the zoo, or the movies to have a great family time. A simple picnic, in the park or even directly in your backyard, is a great way to break the routine and enjoy some sunshine with your family. A teepee tent that can be used both inside and out, adding extra value. Aside from taking it out into the yard for a pretend camp-out, they can also hold a memorable sleepover or birthday party with their friends in the bedroom.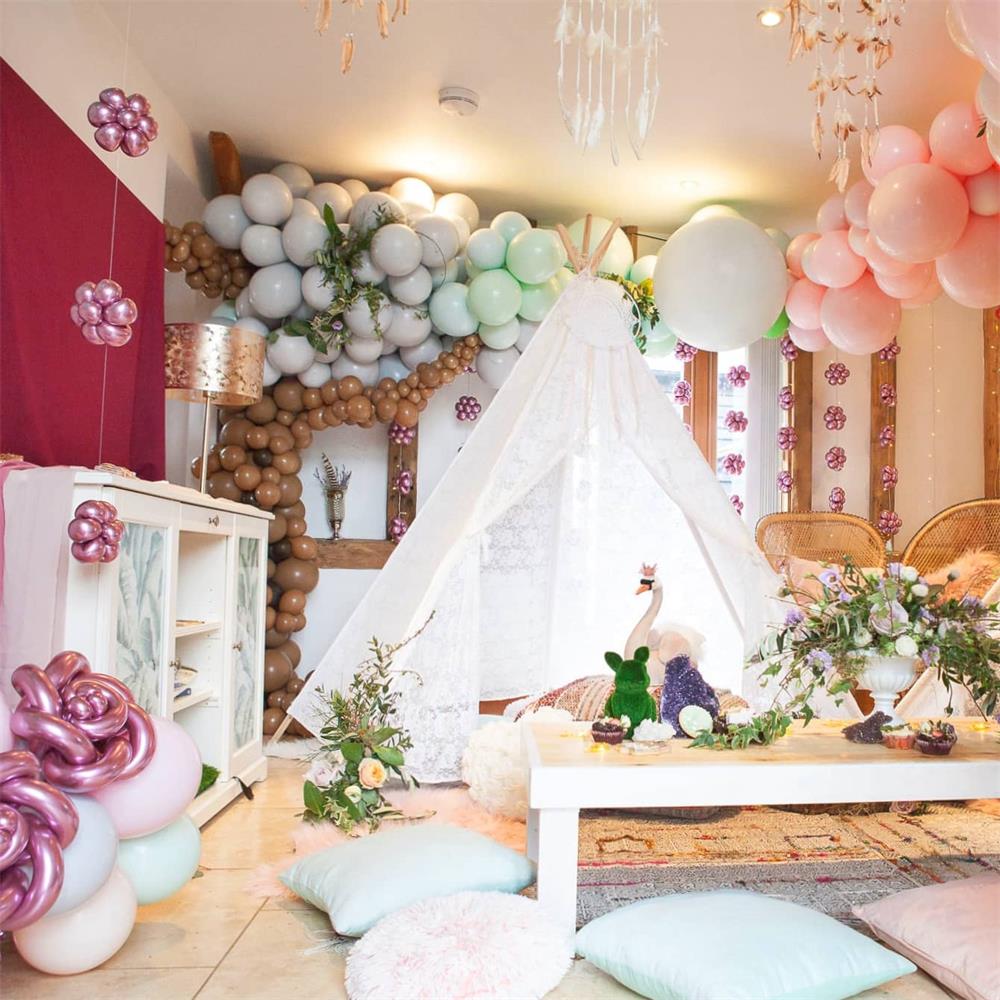 Playtime isn't the only thing kid's teepee are good for. A kid's teepee is also a great place to curl up or nap when your child needs a quiet place to rest, or when the children are too stubborn to sleep in their beds. As kids grow and develop, naps give their bodies and minds time to rest and recharge during those big changes. Plus, if children get overtired, it's actually harder for them to fall asleep easily at nighttime. Naps also help them learn and stay fit. More sleep, better mood.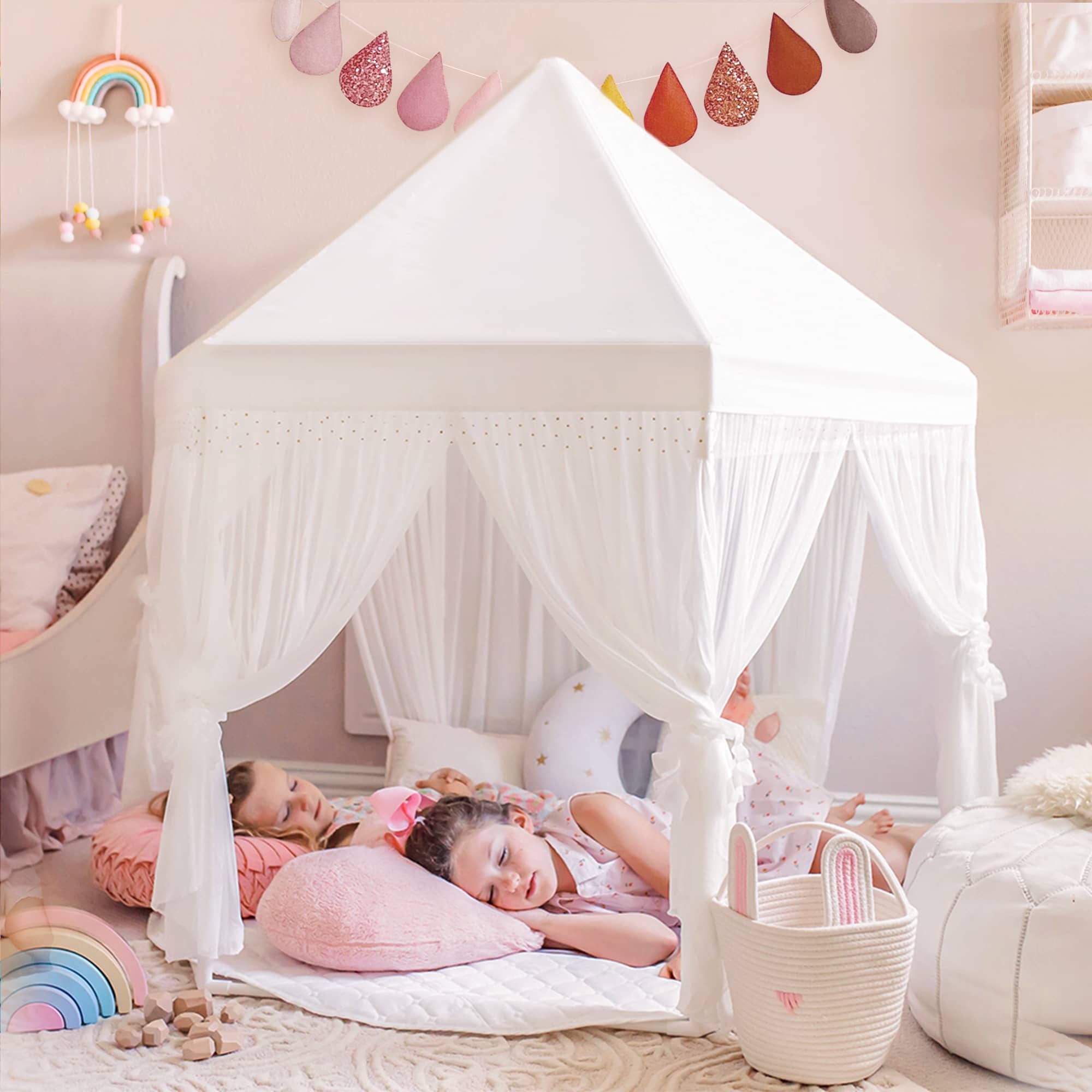 A teepee tent with a minimalist style that compliments the bedroom, living room, as well as kid's playroom. It looks great on both the inside and outside. And if you love taking great images of your room, a teepee is going to look awesome in your photographs. Besides, a white teepee canvas is perfect for a young artist or child that craves self-expression. Your child will love that they can create an amazing original canvas design and truly make this teepee their own.
A teepee tent can be easily assembled by an adult in ten minutes using the cotton canvas, pine poles, connectors, non-slip mat, and fairy lights provided, with easy-to-follow video instructions online. The simple construction of the teepee allows for easy movement between indoor and outdoor locations, making this a versatile toy for all kinds of play.
Tiny Land teepee tents are 100% cotton and free of harmful chemicals or flame retardants. With sturdy wood this doesn't have coating or sealants, our product was built with quality and safety in mind. The symmetrical shape, large base, narrow tip, and stretched seams give the teepee superior stability to battle the elements, and offer warmth while still being breathable to keep your child feeling comfortable for longer.
Eco-friendly products are safe for the health as the materials used are free of harmful chemicals and components. As much as we have the right to harness all the provisions of Mother Nature, we also have the responsibility to protect our home. We need to find and implement ways to meet our needs without endangering the environment. With the use of eco-friendly materials, we send a message that people care.
---